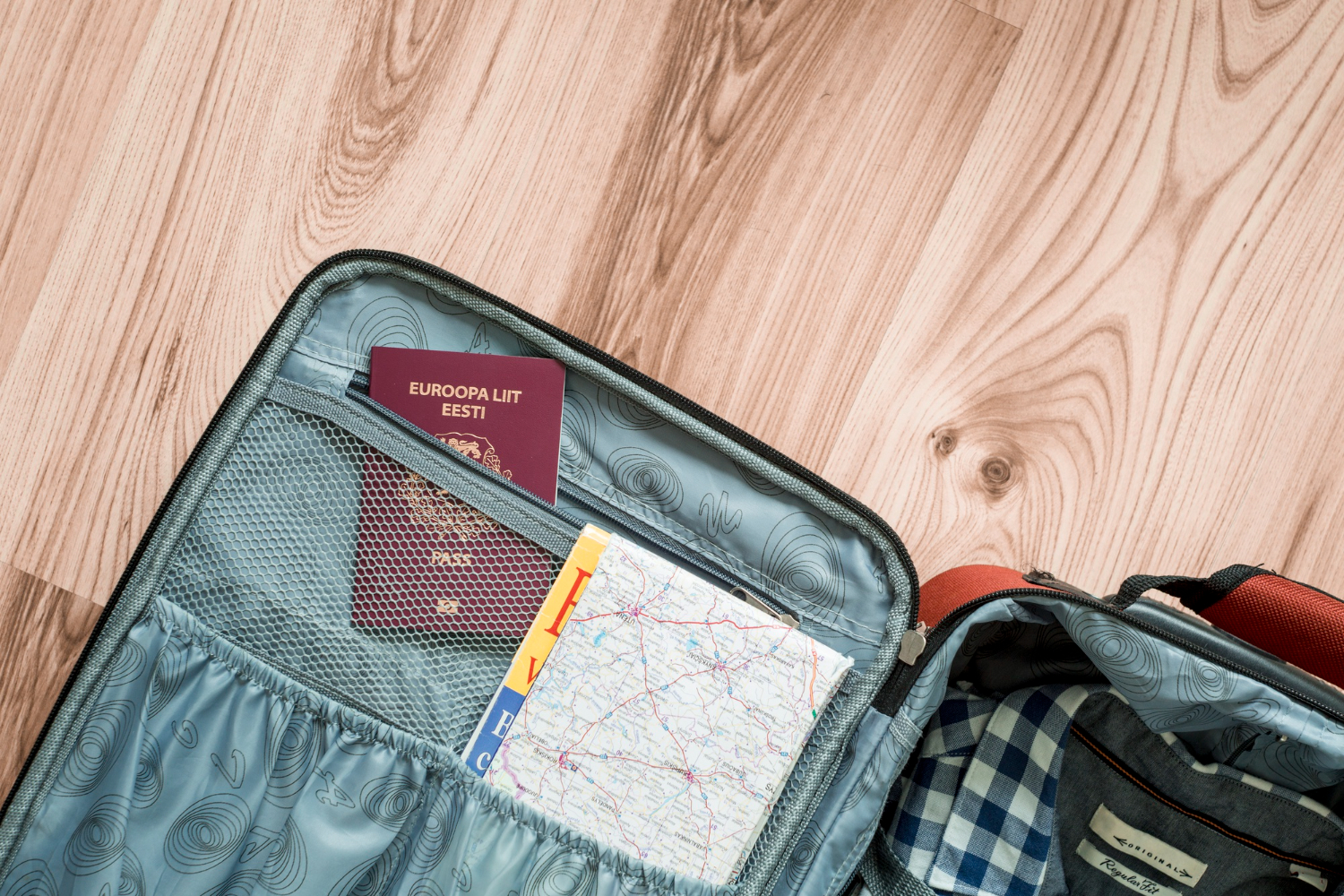 What not to forget
P
acking your suitcase is not as easy as it might seem to some, especially if you are planning to take a lot of things with you. How many of us, on arriving at our destination, discover that we have forgotten something? Below, you will find 5+1 categories of items to remember. This way you will remember what essentials you need to pack before you depart on your journey.
Whether you are a man or a woman, one item that should not be missing from your luggage is a vanity case with all the cosmetics you will need for personal care. Some items will probably be provided by your hotel, but in order to be absolutely sure it is as well to be equippedwith soap or bubble bath, shampoo, razors, toothbrush, toothpaste, moisturizer, deodorant, makeup remover, hair brush, hair gel or hairspray, shaving cream, body lotion and anything else you think necessary.
Issue of Visa: When you begin to organize your trip, the first thing you need to find out is whether you need a visa to enter your country of destination. Journeys to countries such as the USA have many preconditions for the issue of a visa and it is particularly difficult for young people. Apart from this, for a journey to Greece you will need to have an identity card or passport. For countries of the European Union which have signed the SCHENGEN convention you will need the new type of identity card with latin characters or the new type of passport, which is issued by a police department. For European Union countries which have not signed the SCHENKEN agreement and all other third countries only the new type of passport is required. For the issue of a passport the following are required: APPLICATION FORM, appearance in person at the relevant Police Department, a recent special digital photograph (photographers will know the type), two photocopies of your identity card, evidence of payment from the tax office, and your old passport, if you have one.
An approximate estimate of your travelling expenses is definitely necessary. However, to avoid unpleasant surprises it is advisable not to carry too much cash with you, because there is a risk of loss, not to mention the possibility of theft. It is preferable to carry one or more cash cards with you, so you can withdraw any amount of cash you may need at any time.
It has become a rule that the more clothing you have in your suitcase the greater the likelihood is that it will not be used, with the result that valuable space is taken up and you are likely to be inconvenienced unnecessarily. Our advice is to take only the absolutely essential items of clothing and underwear, suitable, of course, for the seasonal weather conditions which you are likely to encounter at your destination. Of course, you should not forget to take one full outfit, or at the most two for emergencies, but no more. Don't forget that afterwards there may not be enough room for any shopping you do on your trip. However, the following items of clothing and the appropriate accessories, which vary depending on the needs of your trip and the weather conditions, should not be missing from your luggage. For example, if you are travelling during summer months, you will definitely need sunglasses and a sun screen lotion, and probably a hat. On the other hand, during winter months, accessories such as gloves, scarf, woollen hat and an umbrella may be necessary. Beyond this, if you are attending a formal event, a tie, or a good suit will prove very useful.o.
For each trip you take, a small medical kit with first aid items is absolutely necessary. The essential items to be included in the small medical kit are the following: Topical acting medicines – ointments for topical use (such as for cuts, burns, stings and minor injuries). Required here are gauzes, antibiotic and special ointments, bandages, some kind of talcum powder. Antiemetics for those traveling by boat or car and who are susceptible to motion sickness; a simple antiemetic should be taken one hour before travelling. Antacids for trips abroad, and within the country; those suffering from upper digestive problems should take antacids with them. Moreover, as living conditions, but especially our eating habits, change while traveling, it is a good idea to take an anti-diarrhea drug. Another useful group of medicines are analgesics, which also act as antipyretics (to combat fever). Moreover, various antihistamine formulas in tablet or ointment form for stings and allergic conditions may also be useful. Finally, if someone suffers from frequent respiratory or urinary tract infections, they should have the usual type of antibiotic with them for the duration of the trip.
You may have nothing to do with technology, but if you decide to take a long trip, certain gadgets may be useful to pass the time pleasantly, not only during the journey, but also during your stay. If you are taking a business trip, a laptop may be necessary for your work. Although it goes without saying, you should not leave your mobile phone behind, so you can make the phone calls you need, and also get in touch in case of an emergency. Additionally, a camera or video camera is an essential gadget, so that you can capture the best moments from your trip. Of course, all these items will be useless if you forget to take the chargers with you!